HARRIET THORPE ON FEBRUARY 06, 2020
Unbeknownst to a passerby not in-the-know, behind one Georgian façade in London there is a spectacular contemporary townhouse with a secret door to the iconic 45 Park Lane. Developed by Mayfair-based Clivedale, the townhouse is part of the Mayfair Park Residences, the rst Dorchester Collection branded residences and the only hotel-serviced homes to be physically connected to a hotel in London.
When Clivedale bought three Grade II listed buildings adjoining 45 Park Lane, having a trusted hotel brand behind the servicing was integral to the business plan for the exclusive address. Prices of the residences reach up to £24.5 million and the coup of a trusted, global hotel partner was key to attracting the highest calibre of clients.

Fred Scarlett, sales and marketing director at Clivedale, describes these clients as 90 per cent self made, transient global travellers, who mostly buy o plan and are suprisingly not ostentatious, despite their wealth. 'In a bygone age, these people would own a fullystaed town house, but now they have ve global homes, so serviced residences make more sense to them,' says Scarlett, an Olympic gold rower in a former life, who has honed his expertise in luxury, working as a yacht broker and then for LVMH in the wine and spirits sector.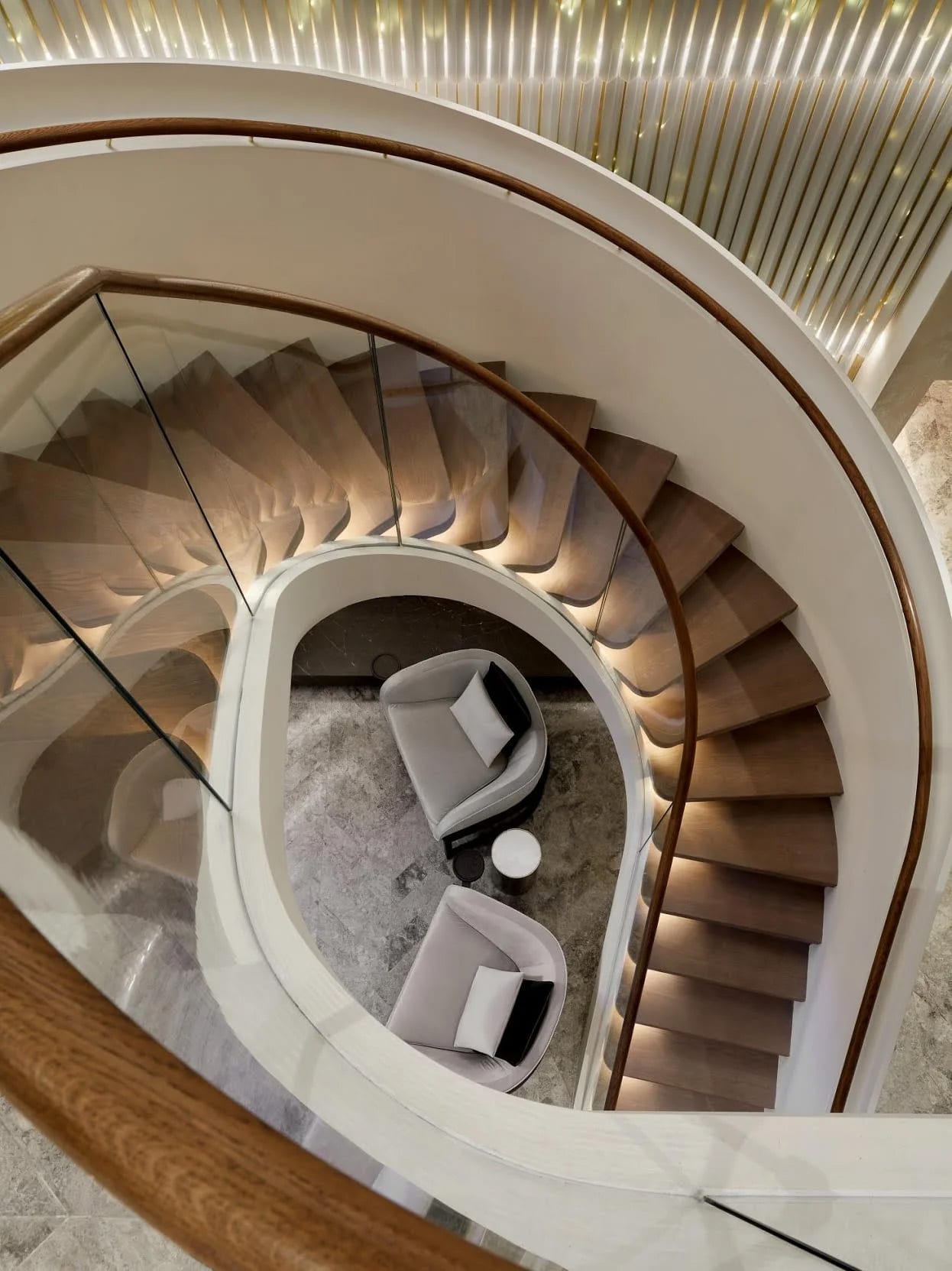 Yet while the 45 Park Lane was the obvious choice, it wasn't the only one for Clivedale. When looking for bids in 2015, ve new international hotel brands had just entered the London market. In the end though, the secret door was a clincher. The Dorchester Collection was ready for a new venture.

'It's a unique oer, and brings much more than usual branded services,' says Scarlett of the Mayfair Park Residences. Beyond your 'club sandwich at 4pm' the residences will oer a private chef at all hours, dog walking, grocery shopping, your very own local Rolls Royce, sommelier – 'and keep em' coming' says Scarlett.

While the residences will have Dorchester branded services, the design follows Clivedale's signature approach to delivering high-end, contemporary homes. They enlisted architect of record Lee Polisano of PLP to create a fully modern building, that still felt like it was part of the Mayfair streetscape. The Grade II listed Georgian façade is the only original element of the Mayfair Park Residences that has been preserved following the plan to 'preserve and restore only what's worth preserving and restoring'. An additional two storeys were added above the original six. The four townhouses have individual entrances, while there is a concierge entrance for residents to access to the 21 further apartments. Beyond its Georgian portico, nothing about the newly opened townhouse is traditional. An organic staircase swirls through its midst, connecting the ground and lower ground oors of the 3,334 sq ft three-bedroom duplex. An owing kitchen and dining space opens up to a vaulted subterranean garden and a secret door leads through to the Mayfair Park Residences health club, featuring a 20m pool, treatment rooms, sauna and more. This is all serviced by 45 Park Lane, and connected through the back of house.

Parisian interior design duo Jouin Manku has brought warmth and 'a little bit of sizzle and dazzle' as Sanjit Manku terms it, to the townhouse. An installation of acrylic ns and lights cascades the full height of the duplex. Softly curved sofas have been designed bespoke and gold-plated chion embedded into the glazed interior doors. Dark oak wood ooring by Hakwood and a smoky-coloured Rossana kitchen contrast with lightly golden textured wall nishes from Viero.

The vaulted garden at the townhouse has been in use by the Dorchester for the last 6 months as a unique private dining space. 'Americans call it experiential marketing,' quips Scarlett. And he sees this as a testament to Clivedale's exible, independent approach to business. They are always searching for opportunity. 'Property works in a three to seven year cycle – things change. We keep an edge and an angle in order to evolve,' says Scarlett.

Evolution for the next cycle is already underway. While completing the Mayfair Park Residences for Q2, they are knocking down the wall of their oces at 73 Brook street for a new commercial expansion, and they're already at work on the Mandarin Oriental Mayfair that will host 80 residences and 50 hotel rooms, scheduled to launch 2022.