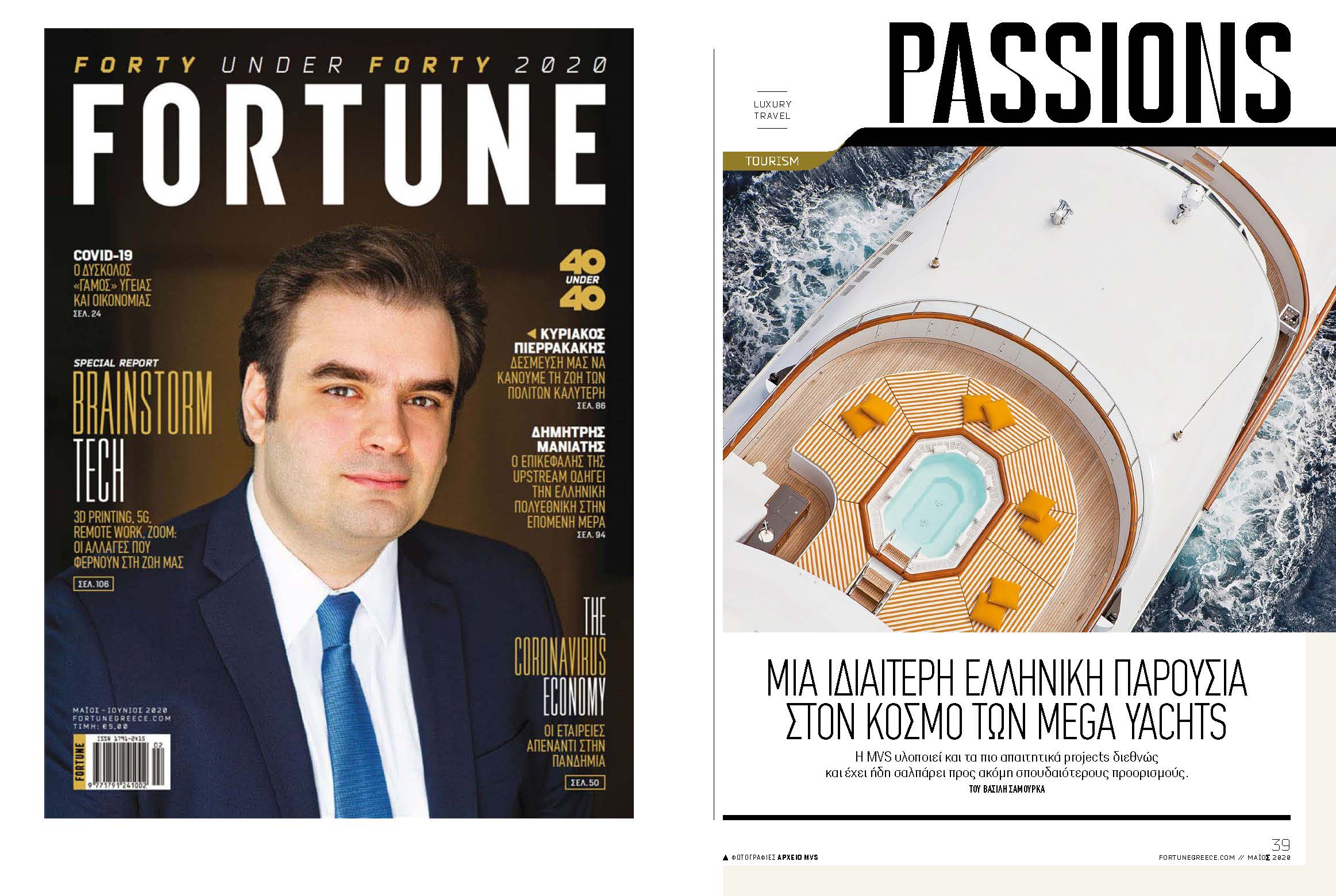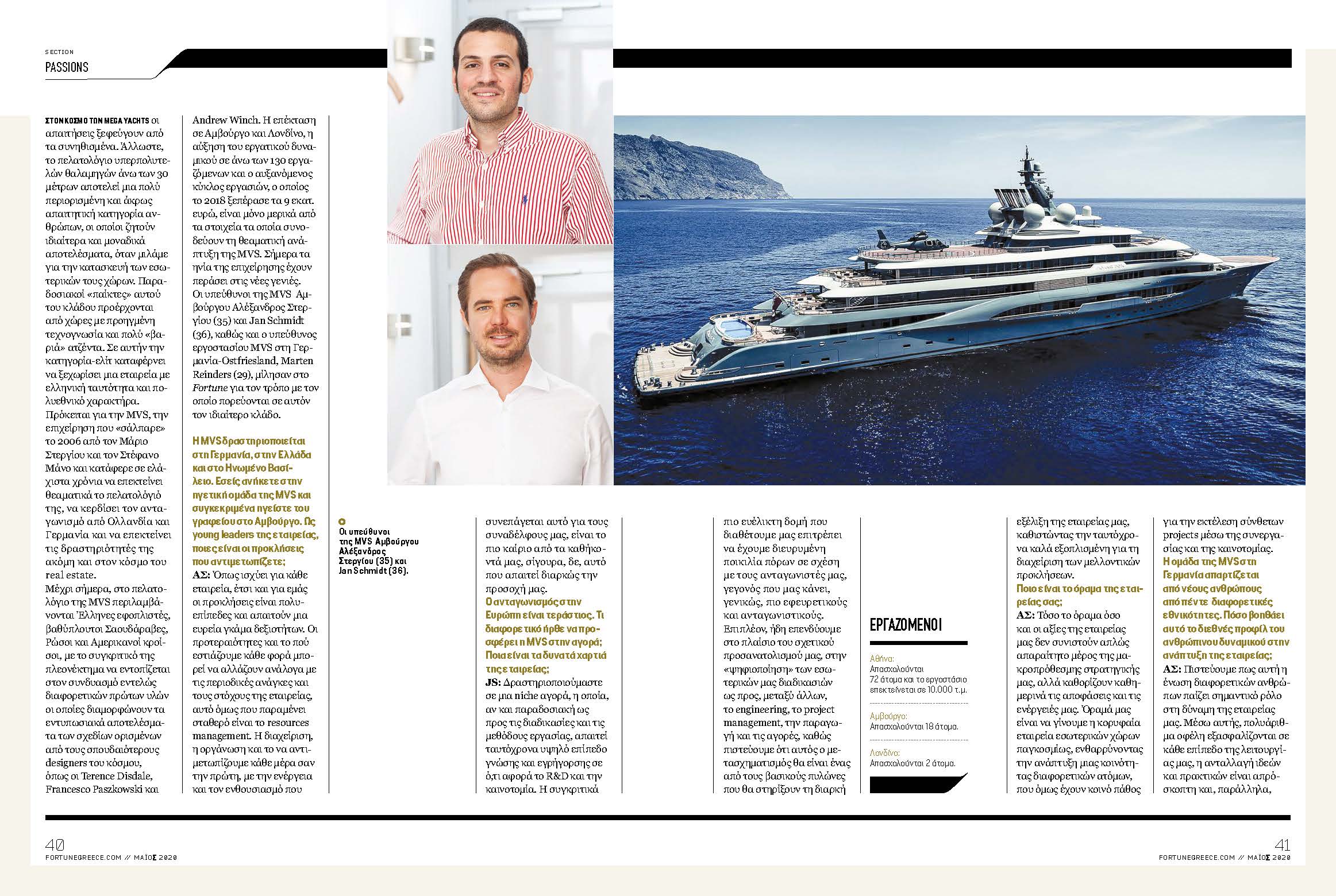 Interview at Fortune Magazine
A special Greek presence in the world of mega yachts
MVS is executed some of the most demanding projects internationally and has already set sail for even more important destinations. In the mega yachts world, the requirements are beyond the ordinary. The clientele of luxurious yachts over 80 meters is very limited and highly demanding, which require special and unique results for their interior construction. Traditional "players" in this industry come from countries with advanced know-how and a "heavy" agenda. In this elite category, a company with Greek identity and multinational character manages to stand out. This is MVS, the company that "sailed" in 2006 by Marios Stergiou and Stefanos Manos and managed in a few years, to expand its customer base spectacularly, challenging the competition from the Netherlands and Germany and expand its activities even to the world of real estate. To date, MVS's clientele includes Greek shipowners, Saudis, Russians and Americans, and its competitive advantage lies in the combination of completely different materials that shape the impressive results of the designs of some of the most important designers in the world, such as Terence Disdale, Francesco Paszkowski, Andrew Winch and Nuvolari Lenard. The expansion in Hamburg and London, the increase of workforce to more than 130 workers and the increased turnover, which exceeded 9 million euros in 2018, are some elements of the spectacular growth of MVS. Today, the reins of the business have passed on to the new generation. The executives of MVS in Hamburg, Alexandros Stergiou (35) and Jan Schmidt (36), as well as the manager of MVS factory in Germany-Ostfriesland, Marten Reinders (29), talked to Fortune about the way they move forward in this particular industry.

MVS is active in Germany, Greece and the United Kingdom. You are part of the MVS leadership team and in particular you lead the office in Hamburg. As young leaders of the company, what are the challenges you face?

AS: Like every business entity, the challenges we are facing are multifaceted and require a broad skill set to tackle them effectively. Ranging from operational optimisation and financing to marketing/ branding and risk mitigation measures, we are responsible in front of our clients, our colleagues, our associates and to ourselves to successfully lead our company.
Depending on the company's periodic needs and objectives, our priorities and focus may differ but one thing that remains constant is the resources management. Administering, organising and keeping our colleagues in a "day-one" state of mind, is probably our most critical task and undeniably one that requires our constant attention.

Competition in Europe is fierce: What differentiates MVS has to offer from the market? What aces does the company hold up its sleeve?

JS: We operate in a niche industry which, although is traditional in terms of working methods and processes, on the same time requires to maintain a high level of awareness directed towards R&D as well as innovation. Our comparatively agile structure allows us to have a diversified and vast pool of resources in comparison to our competitors, thus rendering us more flexible, inventive and competitive.
Additionally, our orientation towards the "digitalisation" of our internal processes, is an objective we have already started investing in through multiple fronts, such as engineering, project management, production and purchasing, since we believe that this transformation would constitute one of the main pillars to sustain our company's continuous evolution, while keeping it well equipped to tackle the challenges of the future.

What are the visions and values of your company?

AS: Both our company's vision and values constitute an indispensable part of not only our long-term strategy but also dictate our daily actions and decisions. Our vision is to become the premier interior company worldwide, through fostering a passionate community of diverse individuals to execute complex projects via collaboration and innovation. As for our company's values, we believe in:
- The power of teams
- Acting under a shared set of core values
- Investing in constant improvement
- Creativeness and novelty
- Facing challenges with tenacity
- The impact that attention to detail has
- Being socially responsible


The MVS team in Germany is made up of young people from 5 different nationalities. How much does this international profile of human resources help the company grow?

AS: Our team is constituted from various personalities, with an assortment of backgrounds and expertise, where we have also intentionally included in the equation factors such as nationality, gender and age differentiation as to achieve our strategically determined goal with respect to broadening our team's diversification.
We perceive this fusion playing a major role in our company's strength. Through it, numerous benefits are being unswervingly secured in all fields of our operation, whereby ideas and practices are openly exchanged, innovation and creativeness are holistically supported. This mixture of people has allowed us to create the vehicle of knowledge dispersion within our organisation, while everyone is receiving their share of equitable acknowledgement for participating dynamically and vigorously in our company's growth.
Moreover, the company is making targeted investments in training and development programs for its members, either on an individual basis or in teams. Depending on the needs related to the company's objectives, after assessing our existing competences, we attempt to further enhance our aptitudes as to accomplish our vision. Being one of our core values, as a team we have grown and will continue to become stronger professionally as well as personally.

Based on what criteria do you select your affiliates?

JS: The core criteria for selecting potential colleagues are twofold; first and foremost, we are looking for people who share the same set of values as we do and believe in the company's vision. Secondly, we try to include in our company individuals who will complement the existing team's traits and fit into our company's culture. From then onwards, during the screening process further assortment factors are taken into consideration, such as one's ability to execute the designated job description tasks, his/ her experience and qualifications, whether this candidate has an array of skills that would be easily transferable to the remaining team members, their work loyalty track history and if their level of curiosity, determination and detail oriented approach are preeminent.
Once someone joins our community, our main goal is to introduce them immediately to our operations so that they become productive as of day one, while leaving them with certain degrees of freedom as to gradually formulate potentially new approaches and ideas. We guide and mentor them with the objective to own their tasks and take responsibility for their actions – our mentality is that errors are allowed, but the team needs to learn from their mistakes and not repeat them. On a regular basis, we organise events in order to further reinforce our bond as a team and keep our people motivated.
We strive towards building a community of people, that are mutually understanding and respectful to one another so that through small but solid steps we can together visualise our company's evolution and position in the future.

Will issues of sustainability, environmental protection and climate change affect your industry concerning the manufacture of yachts, the materials used and the waste in the ocean?

AS – JS: Environmental awareness is unquestionably a priority in the industry's agenda and has already impacted profoundly its working conditions. At MVS we strongly emphasize on the importance of manufacturing under environmentally responsive terms and principally through our engineering methods and production procedures we continuously strive to generate new routes that will lead to an increasingly sustainable delivered output. Since we are mostly focused in the interior outfitting part of a yacht, designated material usage and production waste management are vital parts of our sourcing and operational models.
Additionally, the industry's key constituents - i.e. Yards and Designers - are deeply engaged in this matter, where we are witnessing new trends arising such as yachts sailing with alternative sources of energy and abiding to tighter controls on their waste disposal systems as well as design features that take into account the use of alternative materials.

What does the business plan for 2020 include and what are your goals for the next 5 years?

JS: Our main strategic targets for 2020 are to grow our contracts under management by approximately 20% vis a vis the previous year through the diversification of our projects' portfolio, while developing the aforementioned "digitalisation" process to a level where we can start with its implementation within the first quarter of 2021. In a five years horizon, we aim to achieve several exciting objectives that will allow us to realize our vision. More specifically and just to name a couple of significant milestones we have already started investigating in depth, is the expansion of our production capacities within Germany as well as a further extension of our international client basis in both the high-end marine and land sector.

How Covid-19 is affecting superyacht industry?

AS – JS: This pandemic is primarily a human tragedy, overwhelmingly affecting most countries around the world and testing our societies capabilities. It already has and will undeniably have manifold impacts, one of which is the escalating consequences on the global economy, part of which is the yachting industry.
For the time being, the projects our company is involved with are progressing in alignment to the new business normality, with minor interruptions but no severe deviations. What we should not discount though, is the fact that we are possibly still in the early stages of this crisis and the situation might rapidly unfold towards a recession, especially when disruptions start shifting industry segments. Subsequently, our immediate and effective response is of vital importance. What we do to combat the disease, how we organize new operational approaches and how we will adapt once we pass through this difficult period, is decisive for our long-term prospects. Our company's crisis management action plan in place, principally consists of the following headers:
i. Workforce protection
ii. Operational and supply chain stabilization
iii. Open communication with our customers
iv. Financial stressing and ensuring means of liquidity
v. Business continuity and recovery planning
Currently, differing case scenarios are being investigated by a diverse set of specialists on the economic impact of the virus on an international level. Ranging from delayed recovery to prolonged contraction depending on the virus's seasonality, spread and resurgence models, series and extent of restraining measures, countries' preparedness, public and business sentiment, etc. it is certain that the yachting industry will be affected. On the other hand, it has been noticed that the yachting market could remain relatively resistant to a probable global economic recession. A good illustration for this fact would be that nowadays we are noticing yachts' being increasingly chartered since people aim to self-isolate against the virus in remote destinations.
Although the duration and the results of this crisis are yet unclear and difficult to safely predict, the impact on human lives is massive. Evidently, the companies need to act immediately as to protect their employees as well as mitigate the intensifying business risks by being proactive. We remain confident that, when everything is behind us, all constituents of the yachting industry will be prepared and even more eager to serve their purpose.

You lead the MVS plant in Germany: Will that production be the "heart" of your company?

MR: Without a doubt, our production facility in Germany is and will continue to play a major role in the future development of MVS. Although, we started working in the current location towards the end of the 3rd quarter of 2016, everything that was envisioned has come to life so far. Substantial investment was required but at the end of the process, we can guarantee to deliver the product we have promised. This means that all thoughts, consultations, drawings, samples, preparation, etc. lead to the point where every single construction is pre-assembled successfully in our workshop, controlled and prepared for delivery. This is probably what makes the entire process so challenging but also stimulating, since we are constantly evolving our procedures and workflow in order to maintain our company in track of becoming the premier interior company worldwide.